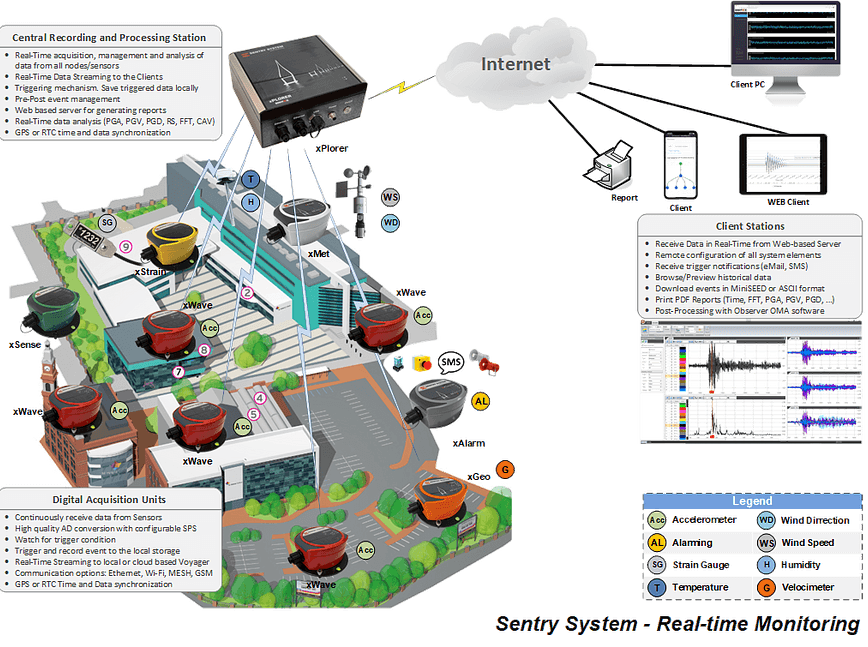 Overview
Monitoring the structural health of a group of buildings in a large area such as a campus presents many challenges: differing building heights and sizes, large distances between buildings, different ground soil structure and response and the need for a control room where the data is centralized are just a few examples. Digitex Systems real-time approach to structural health monitoring provides a clear advantage in a campus application as these challenges can be met using a variety of Digitex hardware and software offerings.
A typical installation would consist of a number of tri-axial sensors installed in a free field configuration throughout the campus. The exact sensor count depends on the campus size, number of buildings and their form and height. The free field units are used for the general campus ground response after an earthquake. The PA, PV, CAV, and FFT are providing the first responders with information owner need for a quick assessment of the situation.
System is designed to work with one or more xWave, xGeo, xSense, xStrain, xMet or xAlarm units connected to the Voyager. Voyager software is running on xPlorer, central data acquisition unit, or installed at cloud. System can be designed to accept almost all sensor types, and is embedding Digitex D-Series accelerometers. Advanced analysis can be done using Digitex' powerful data analysis software, Observer.