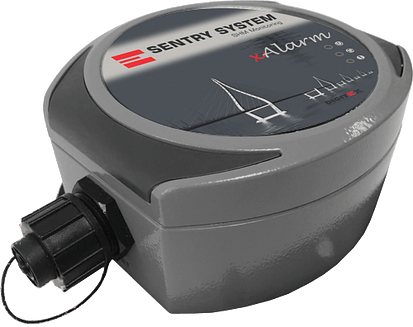 Key Features
Rugged aluminum enclosure with IP67 protection
4 embedded relays or 10 TTL outputs for event triggering
SMS notifications on trigger/scheduled/manual event
User configurable SMS parameters and contacts
Configurable via Voyager alarming interface
One or more units on different locations at single Voyager account
Easy installation, wireless or using simple CAT5e cable.
Supported by DigiMESH® for easy wireless connectivity without expensive network infrastructure
Ultra low power consumption
POE capability (9-72VDC)
Wide range of Operating Temperature: -40°C ~ 85°C
Overview
xAlarm is an advanced GSM gateway and remote relay unit. This device can be connected to any Sentry System equiped with xDAS or xCAS units where external inputs need to be activated on triggered event. The units provides SMS notification with some key values when triggering mechanism on Voyager is activated. Depending on user needs, Sentry System can be equiped with one or more xAlarm units on different locations.
xAlarm can be connected in a network using standard CAT5e cable for easy installation. xAlarm can provide Volt-Free contact for: BMS System, alarm siren, external system, elevators, main power switch, e.t.c. The system can be set up to run reliably for days, months, or years without stopping.
xAlarm - Digital Alarming Unit