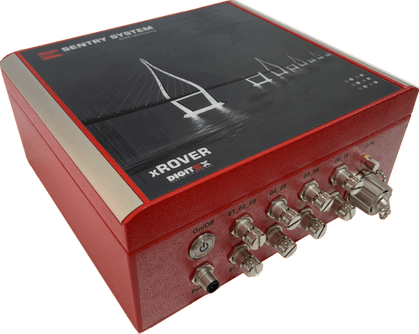 Key Features
Rugged aluminum enclosure with IP67 protection
Multi-channel Real-Time Data Acquisition with Central Recording and Processing
Voyager® central acquisition software included
High quality AD conversion with 32-bit, 24-bit or 16-bit Delta Sigma resolution
Number and type of channels: per request
User configurable sampling rate
Ethernet/GSM communication protocols
Internal SSD Memory for local storing of the event files
GPS or RTC time and data synchronization
Compatible with Observer®, for advanced analysis
Overview
Our high-performance, custom-configured xRover is a multi-channel, real-time data acquisition and structural analysis system with both manual and event-driven triggering. The system is capable of supporting user-specified sampling rates for all Digitex Accelerometer inputs (>120dB dynamic range) or any additional third-party sensors (strain, voltage, current, resistance, fiber optic). The Digitex xRover can integrate and manage all sensor types to provide a more complete picture of a structure's health. By taking advantage of the extreme performance and small size, xRover is able to deliver unprecedented control and acquisition capabilities in a compact, rugged package with extreme industrial certifications and ratings for opera on in harsh industrial environments. Temperature ranges of -40° to 55° C (-40° to 131° F) and a variety of international safety, electromagnetic compatibility (EMC), and environmental certifications and ratings are all available with xRover.
xRover can be connected in a network using standard CAT5e cable for easy installation. xRover can accept different type of accelerometers and various type of sensors required for SHM instrumentation. The system can be set up to run reliably for days, months, or years without stopping.
The Voyager® central acquisition software, integrated into xRover, provides Real-Time acquisition, management and analysis of data from all connected sensors. xRover capable for automatic creation of PDF reports for every event. WEB based interface is accessible from any internet enabled computer. Access to xRover is granted to specific group of people with appropriate Login Information. Users can view the stored event records or schedule On-Demand event.
xRover - Multi Channel Data Acquisition Unit